Allen Brothers Landscaping, LLC.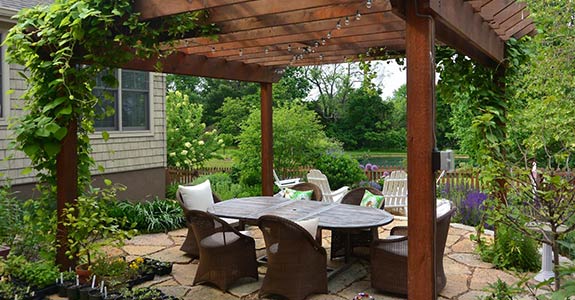 At Allen Brothers Landscaping, LLC, we bring you the very best in commercial and residential landscaping and hardscaping. Our experts are able to handle anything from stonework to gardens to custom designs. From conception through completion, we'll make sure you have the outdoors you've always dreamed of.
Learn More
Landscape Designers
In 1974, Allen Brothers Landscaping, LLC was formed and we've been going strong ever since. The secret to our success is that we combine craftsmanship with responsive designs. At our company, we recognize that not everyone wants the exact same landscape design. Instead of providing one-size-fits-all landscape design, we work closely with our clients to understand exactly what their vision is. Some customers are not entirely sure what they want, so we take the time to explore their options with them and help them choose a design that meets their style and aesthetic. It is this personalized approach that has allowed us to serve as the number one company for landscape design for over 40 years.
Our designs are both classic and cutting edge, combining the regal beauty of natural minimalism with the best hardscape designs, including stonework, waterfalls and more. We provide trees and shrubs and can install walkways and water features to turn your front or backyard into a beautiful getaway. From design to installation, you'll have a part in choosing the look and feel of your outdoor designs, ensuring that you are thrilled with the final product. Clients choose us for their backyard landscaping in because:
We offer beautiful landscaping and hardscaping designs.
We are able to do any type of stonework or urbanscape that meets your unique vision.
We have decades of experience in the industry.
We are a member of the Northern Kentucky Home Builders Association.
Our designs have won multiple awards.
Service Areas
We offer landscaping service, lawn care, lawn mowing and tree pruning in the following areas and more:
Alexandria, KY
Silver Grove, KY
Ryland Heights, KY
Independance, KY
Claryville, KY
Walton, KY
Giants Lick, KY
Falmouth, KY
Dry Ridge, KY
Sparta, KY
Owentown, KY
Sadieville, KY
Stamping Ground, KY
Williamstown, KY
Berry, KY
Cynthiana, KY
Augusta, KY
Carlisle, KY
Campbell County, KY
Kenton County, KY
Pendleton County, KY